Date:  12th June 2016, 0700 hrs to 0955hrs, Temperature 15 – 17°C,  
A dull, drizzly but muggy morning.
by Amanda, Anne and Terry 
Photo credit David Mercer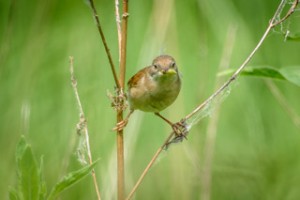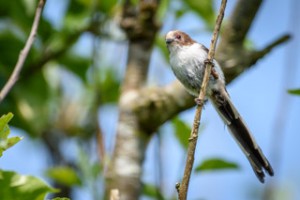 Robin 7
Blue Tit 5
Dunnock 6
Woodpigeon 20
Wren 11
Blackbird 18
Magpie 17
Greenfinch 10
Reed Bunting 19
Bullfinch 9
Chaffinch 3
Long-tailed Tit* 9
Great Tit 3
Goldfinch 15
Moorhen 3
House Sparrow 8
Carrion Crow 3
Song Thrush 11
Mute Swan 5
Chiffchaff 5
Reed Warbler 5
Great Spotted Woodpecker 1
Willow Warbler 1 (heard only)
Swift 25
Whitethroat 16
Linnet 8
Swallow 4
Willow Tit 4*
Sedge Warbler 1
Black-headed Gull 1
 30 species in all
 * 7 Fledgling Long Tailed Tits and 4 Fledgling Willow Tits
"The Corn is as High as an Elephant's Eye"
There may not have been a "bright golden haze on the meadow", but it was a very enjoyable morning, resulting in record numbers of Swift, Song Thrush, Whitethroat, Linnet and Reed Buntings being seen. Unfortunately, the total number of bird species was down on last month, possibly due to the fact that the trees are now in full leaf and the grass in several of the meadows has grown very tall making observation difficult.
The latest summer migrant to make an appearance was a Sedge Warbler along the New Cut Canal close to Spittle Brook. Furthermore, a Willow Warbler has finally been heard, though not seen, on Paddington Meadows, lurking somewhere in the prohibited corner between transects 10 and 11.
The highlight of the day must again be reserved for our Willow Tits, who have successfully reared and fledged at least 4 welcome newcomers to the New Cut Canal/Paddington Meadows survey area.
 The most successful areas of the survey this month were Transects 1 and 12.
 Mammals
 2 Grey Squirrel seen during this month's survey, although there are plenty more in residence, especially along the New Cut Canal.
 Butterflies
 No butterflies seen during the survey, perhaps because of the drizzle and early start. A Painted Lady was observed earlier in the week at the junction of transects 3 and 4.
 Update 20th June
 The pair of Grey Partridges have been seen several times since last months survey but regretfully no chicks.  The Lesser Whitethroat was seen and heard this afternoon after a few weeks absence in transects 3 and 5. Unfortunately, the Grasshopper Warbler has not been seen or heard in the past month.