Date:  10th July 2016, 07:10 hrs to 10:20hrs, Temperature 19°C
by Amanda and Terry
 A cloudy and muggy morning.
Robin 2
Blue Tit 5
Dunnock 3
Woodpigeon 22
Wren 7
Blackbird 21
Magpie 24
Greenfinch 19
Reed Bunting 18
Chaffinch 1
Goldfinch 30
Moorhen 4
House Sparrow 35
Carrion Crow 2
Song Thrush 6
Mute Swan 12
Chiffchaff 8
Reed Warbler 4
Great Spotted Woodpecker 1
Swift 17
Whitethroat 17
Linnet 4
Swallow 6
Willow Tit 1
Black-headed Gull 1
Blackcap 9
Collared Dove 1
Mallard 8
House Martin 1
Sparrowhawk 1
Pheasant 1
31 species in all
 Birding can slow down in July and August in what is known as the "summer doldrums", as birds begin to moult and recover from their brood rearing activities. Nevertheless, more species were logged this month than last, although no new species were noted.
 The success stories this month, were the large numbers of  House Sparrows foraging in the meadows along with family groups of Greenfinch and Goldfinch. Noted absentees were Bullfinch and also only a singleton Chaffinch.
 The highlights of the day must again be reserved for a Willow Tit along the boardwalk in transect 2 and a very obliging Great Spotted Woodpecker feeding for several minutes on an ancient hawthorn trunk on the river bank of transect 6.
The most successful areas of the survey this month were Transects 2 and 11.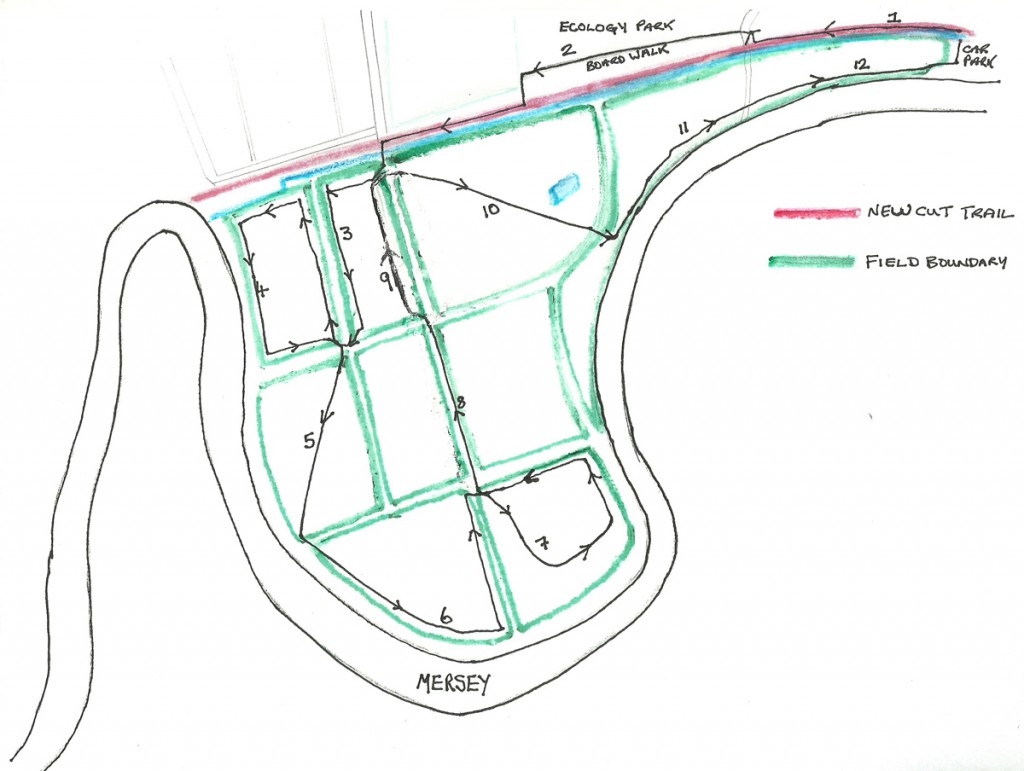 Mammals
3 Grey Squirrel seen during this month's survey.
Recent late evening forays have resulted in a solitary fox being seen in Transect 2 crossing the boardwalk and a dozen bats located throughout the survey area.
Hopefully, further information will be gleaned as to the exact species of bats to be found, as a result of a future bat survey programmed for August.
What is believed to be a Grey Seal has been seen regularly on the Mersey between Woolston and Howley weirs. A link to a short video of the seal seen gorging itself on a large fish can be found on the site's home page.
Butterflies
Finally we have some butterflies to talk of, with numerous Meadow Browns flitting among the grasses in each meadow along with Small Skippers. On Wednesday 13th a Comma, Red Admiral, Small Tortoiseshell and Common Blue were all seen in the hedgerows of transect 8. The first Gatekeeper was spotted on the 17th, ironically adjacent to the missing kissing gate at the corner of transect 7.
Wildflowers
The wildflower meadow (transect 7) is currently a cloud of Meadow Sweet, interspersed with fine examples of Common Mallow and Chicory.