Date:  7th January 2017, 0900 hrs to 1200 hrs
by Amanda and Terry
Weather : Dull, Mild, calm and drizzly morning, Temperature 7°C to 9°C 
Blackbird 26
Blackheaded Gull 1,
Blue Tit 20,
Bullfinch 18,
Chaffinch 8,
Carrion Crow 8,
Collared Dove 1,
Coot 1,
Dunnock 12,
Goldfinch 41,
Great Spotted Woodpecker 2,
Great Tit 23,
Greenfinch 13,
Grey Heron 1,
Linnet 4,
Long-tailed Tit 13,
Magpie 26,
Mallard 15,
Moorhen 6,
Mute Swan 2,
Reed Bunting 27,
Robin 15,
Song Thrush 3,
Treecreeper 1,
Woodpigeon 24,
Wren 7,
 26 Species in all
 A mild but dull morning on the Meadows;  still soggy underfoot following recent rain, but not flooded like the same time last year.
As was the case in December, there was a welcome returnee. A Treecreeper was observed on the trunk of the hawthorn between transects 5 & 6. Coincidentally, the last Treecreeper to be recorded was in January last year.
The highlights of the day were the Treecreeper and the Great Spotted Woodpeckers.
The most successful areas of the survey this month were transects
1, 2 & 7.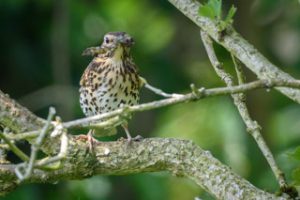 Song Thrush courtesy of David Mercer from last summer on Paddington Meadows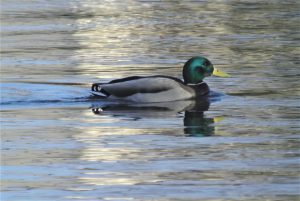 Drake Mallard on the Mersey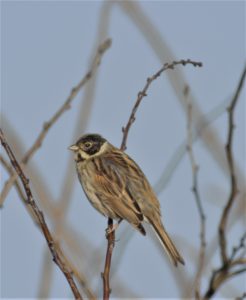 Male Reed Bunting
No raptors seen during this months survey.
A Willow Tit was heard and then seen along side the New Cut Canal in transect 10 about a 100 metres from the gate entrance, on the morning of Saturday 21st.
A solitary Snipe was flushed from the centre of the wild flower meadow (transect 7) on Sunday 29th.
Mammals
10 Grey Squirrels seen during this month's survey.