Date:  11th February 2017, 0900 hrs to 1200 hrs
by Amanda, Trish and Terry
 Weather : Dank, Drizzly, Cold but calm morning, Temperature 4°C to 5°C
Blackbird 16
Blackheaded Gull 4
Blue Tit 22
Bullfinch 6
Chaffinch 4
Carrion Crow 8
Coal Tit 1
Collared Dove 3
Coot 1
Cormorant 4
Dunnock 3
Goldfinch 22
Great Tit 19
Greenfinch 10
House Sparrow 8
Jay 1
Kestrel 1
Long-tailed Tit 13
Magpie 37
Mallard 10
Meadow Pipit 3
Moorhen 5
Reed Bunting 9
Robin 9
Song Thrush 4
Teal 2
Tufted Duck 2
Woodpigeon 25
Wren 5
 29 Species in all
A cold and damp morning on the Meadows;  dry underfoot despite the unexpected drizzle. Despite the weather several Song Thrush, Chaffinch and Robin were in song to proclaiming their new territories.
A couple of first timers this month for a survey date but both had a bit of inevitability about them. Firstly, a "gulp" of 4 Cormorant seen on the Mersey adjacent to Woolston Tip; feeding avidly before the rowers ventured up river.
Cormorant can be seen virtually every day tantalisingly close on the pylons of Number 4 bed, but rarely do they venture into our "patch".
Secondly, a solitary Coal Tit amongst the other Tits at the entrance to the Meadows at Larkfield Avenue. Seen and heard before but never on a survey day.
 As was the case in January, there were some welcome returnees. A pair of Tufted Duck on the river amongst the Cormorants and 3 Meadow Pipits in the hedgerow between transects 5 & 8.
Only one raptor seen during this months survey a Male Kestrel.
The most successful areas of the survey this month were transects  2 & 3.
 Outside of the survey date, on the 18th and 26th a Little Grebe was spotted in the river at the corner of transect 7 adjacent to the missing kissing gate and on the 18th a Goldcrest was flitting along the riverside hedgerow of transect 4.
After an absence of five weeks or so the Buzzards are back; at least two seen displaying and mewing over the Meadows.                                           
Mammals –  7 Grey Squirrels seen during this month's survey.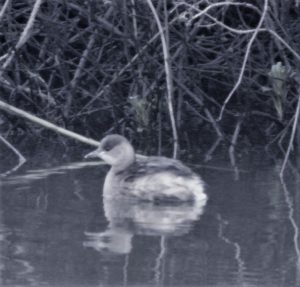 Little Grebe near kissing Gate transect 7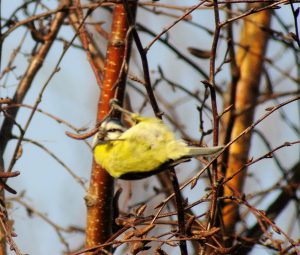 Blue Tit amongst the Catkins transect 10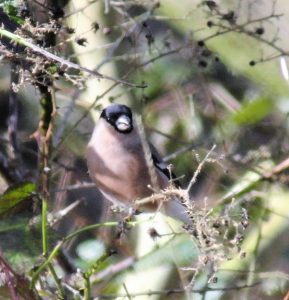 Bullfinch on transect 8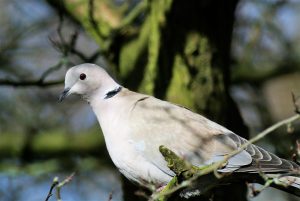 Collared Dove near entrance to Paddington Meadows at Larkfield Avenue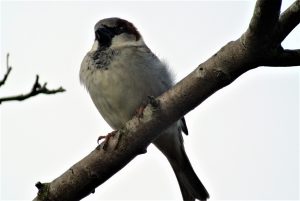 House Sparrow hedgerow between transects 3 and