Date:  14th May 2017 7:00
by Amanda, Geoff, Dave M and Terry
Weather
A warm sunny but cloudy morning Temperature 9c to 13c
Bird Count
Blackbird 36
Blackcap 5
Blue Tit 6
Bullfinch 5
Buzzard 1
Carrion Crow 2
Cetti's Warbler 1
Chaffinch 10
Chiffchaff 11
Collared Dove 1
Dunnock 16
Goldfinch 20
Grasshopper Warbler 1
Great Spotted Woodpecker 1 (first sighting of year)
Great Tit 8
Greenfinch 15
Grey Heron 1
Grey Partridge 2
38 species in total
Grey Wagtail 1 House Sparrow 22 Linnet 2 Long-tailed Tit 23 Magpie 15 Mallard 4 Moorhen 3 Mute Swan 3 (1 nesting pair with 3 cygnets) Reed Bunting 11 Reed Warbler 2 Robin 15 Sedge Warbler 1 Song Thrush 12 Spotted Flycatcher 1 (first sighting) Swallow 2 Swift 15 Whitethroat 14 Willow Warbler 2 Woodpigeon 27 Wren 14
May's Highlights – 8 Warblers and a Spotted Flycatcher
A pleasant enough spring morning on the Meadows, cloudy with a threat of rain which never materialised. One new sighting for this year and one totally new species seen during the survey. New summer arrivals seen during the survey were Common Whitethroat plus a patch first sighting of a Spotted Flycatcher. This red list summer visitor was seen in transect 4 in the corner of the Meadow nearest to Paddington Bank and gave excellent views for several minutes. The Grasshopper Warbler was heard briefly in transect 4, but not seen; it is likely that currently we have at least 3 Grasshopper Warblers territories on the Meadows. Welcome returnees were a Great Spotted Woodpecker and the resident pair of Grey Partridge. The Cetti's Warbler was seen and heard again and is still in situ in transect 12. Furthermore, a Cetti's Warbler has also been heard in transect 11, so there is a possibility that we have a second bird or our resident bird is starting to wander. There was only one raptor evident on this morning's survey with a Buzzard circling over transect 11. Birds were found consistently around most of the survey area this month. A special mention of our Blackbird population with at least one Blackbird logged in every transect. On the 31st May a Lesser Whitethroat was heard and seen in the hedgerow between transects 8 and 10 after a months absence and has been heard there every day since. Good news! The Mute Swans in transect 1 have 3 newly hatched cygnets.
Mammals
10 Grey Squirrels seen during this month's survey plus a report of a stoat on the path between transects 8 and 10.
Butterflies
1 Red Admiral was seen in transect 5 on the morning of the bird survey as the day warmed up.
Wildflowers
The area adjacent to the New Cut near to the picnic benches (transect 1) is currently a mass of wildflowers with Yellow Rattle (rhinanthus minor), Bladder Campion (silene vulgaris), Field Poppy (papaver rhoeas), Meadow Crane's-bill (geranium pratense) and Yellow Flag Iris (Iris pseudacorus) amongst the grasses and plantains. The fragrance of the Hedgerow Rose (rosa multiflora) can be appreciated at its heady best at present especially in transect 10.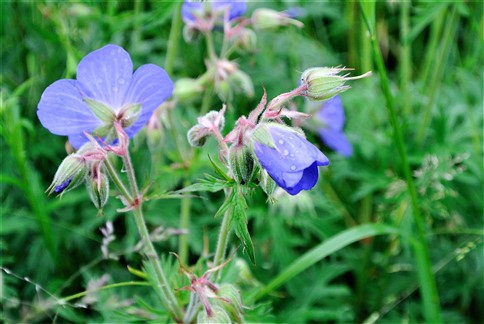 Meadow Crane's-bill Geranium pratense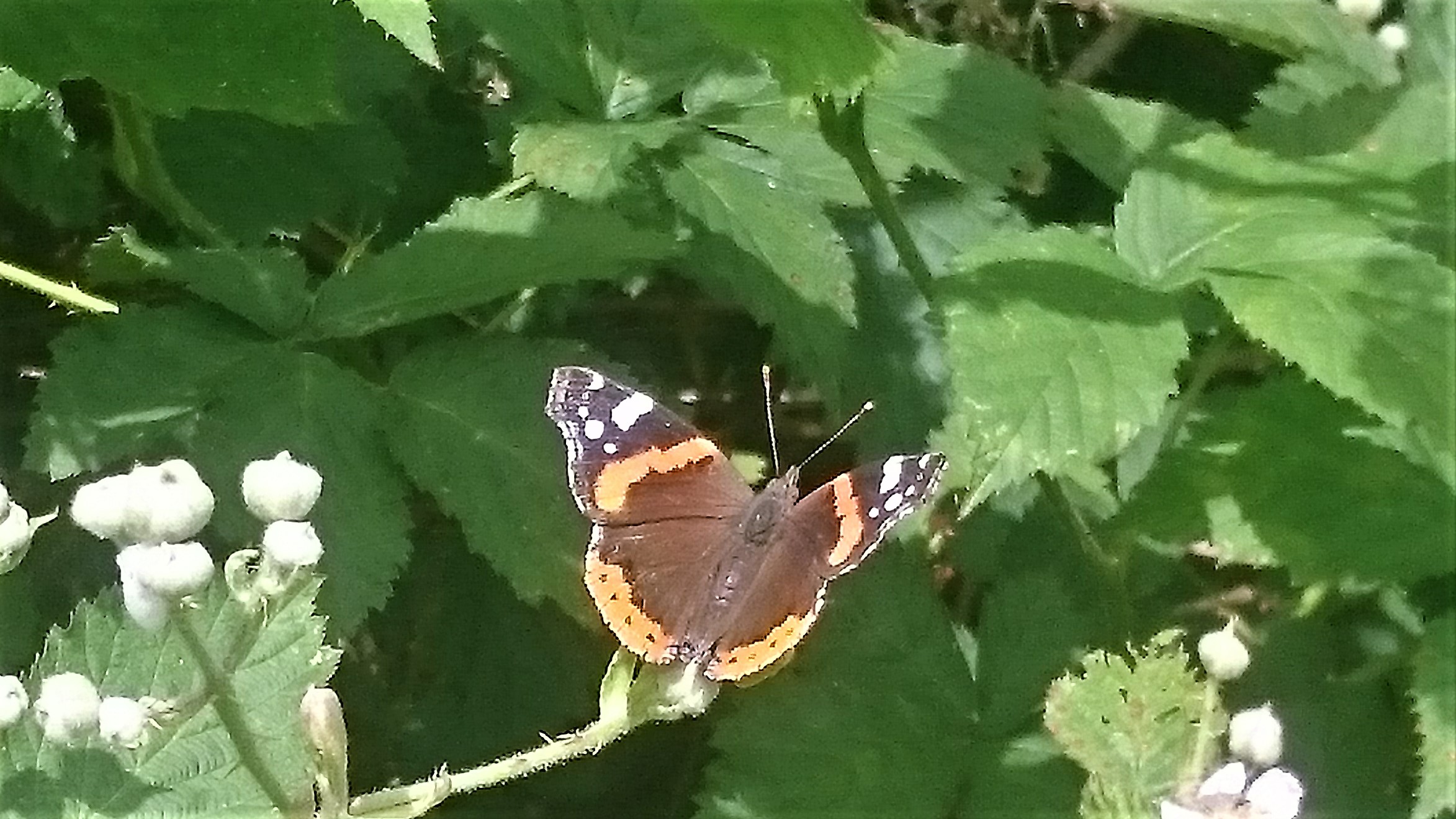 Red Admiral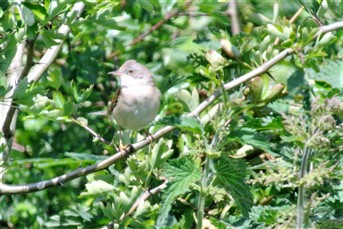 Whitethroat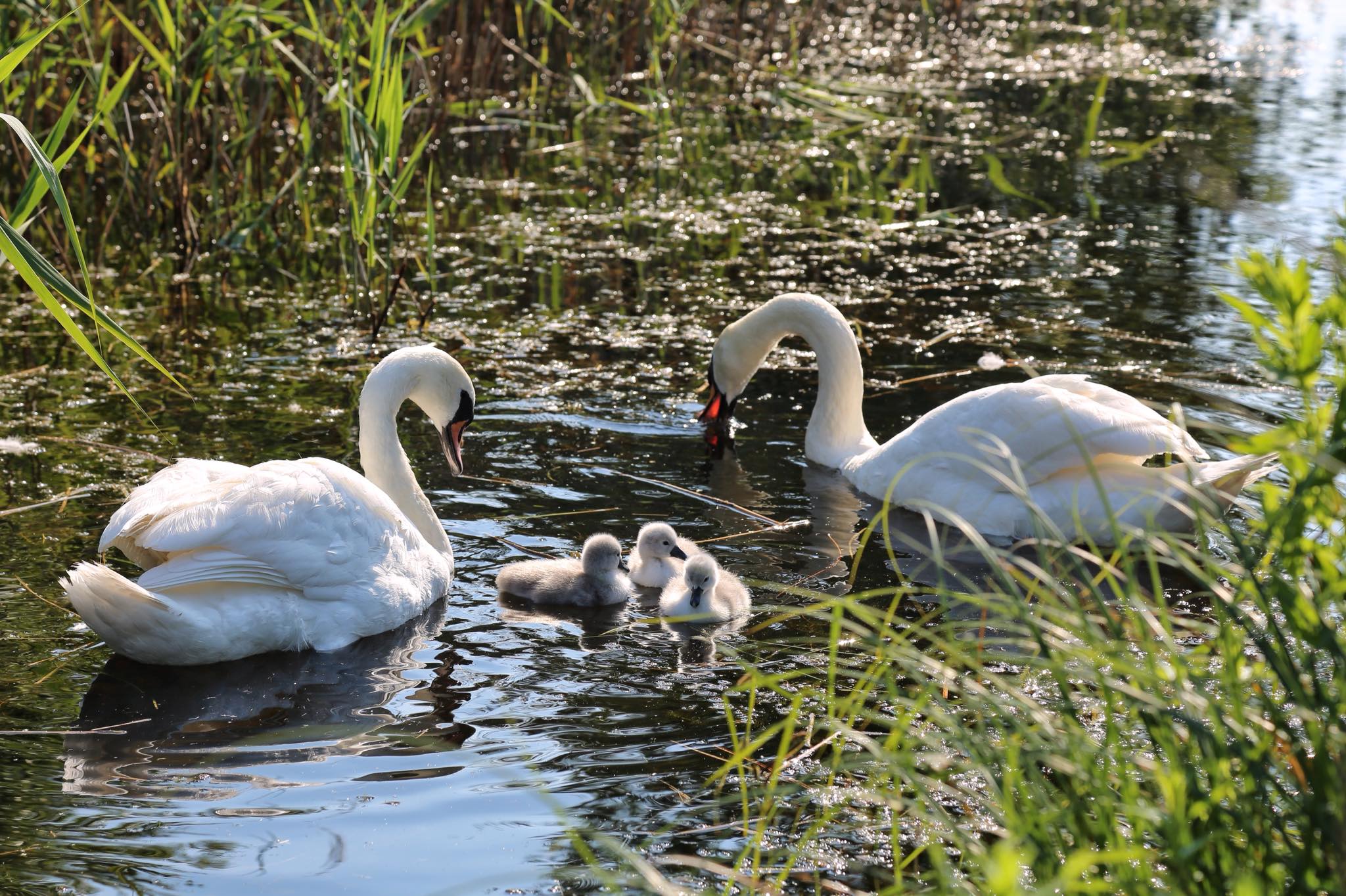 Swans & Cygnets