Date
20th February 2018 0900 hrs to 1215 hrs by Steve, Amanda, Clare, Geoff, Dave and Terry
Weather
Cool, Sunny and Breezy.  
 Temperature 6°C to 9°C
BIRDS
Blackbird 18 Black-headed Gull 24 Blue Tit 14 Bullfinch 4 Buzzard 2 Canada Goose 2 Carrion Crow 3 Chaffinch 7 Collared Dove 1 Coot 3 Cormorant 1 Dunnock 10 Goldfinch 25 Great Tit 17
28 Species in all
Greenfinch 34 House Sparrow 20 Long-tailed Tit 14 Magpie 36 Mallard 10 Moorhen 2 Mute Swan 2 Redwing 1 Reed Bunting 11 Robin 22 Song Thrush 4 Tufted Duck 1 Woodpigeon 29 Wren 9
Bird Report
An unremarkable morning's birding, with one less species than the equivalent survey last year. February can be a month of few species on the Meadows, but thankfully because of the cold snap at the end of the month some "first sightings" have turned up though regrettably not on the survey day. February's survey highlights – no new species during the monthly survey but an extremely good day for Greenfinch (34) and House Sparrow (20) which is good news for these increasingly threatened birds. Only one raptor species seen this survey; 2 Buzzard which were very active hunting over much of the Meadows. Outside of the survey date this month has proved very productive with three new species sighted probably due to the frozen conditions elsewhere. In transect 11 ( February 3rd and 13th) a pair of Willow Tit were noted plus a Pied Wagtail (13th). Also in transect 11 a solitary Goldeneye was observed for approximately a week from the 9th February; a first for this species on this stretch of the Mersey. Other first timers have been up to 5 Shoveler ducks which have been seen regularly in various locations along the Mersey between transects 7 and 4 during the last week of the month and into March. 5 Raven with a Kestrel were seen displaying over the Meadows this month on the 22nd with two Raven regularly roosting on the Cormorant pylons on Number 4 bed of the Eyes. It is likely that these birds will be nesting by now and may be somewhere close by. There have been reports of several Redpoll visiting bird feeders on Larkfield Avenue (17th). Also a pair of Widgeon on the New Cut Canal near Larkfield Avenue and a solitary Treecreeper near Spittal Brook on the 19th. 2 Mistle Thrush were noted in transect 2 on the 5th and 2 Snipe were seen on the 11th in transect 10. Also further sightings of the Barn Owl have been reported over the Meadows in the late evening.
Mammals
8 Grey Squirrels were logged during this month's survey.
Butterflies
None
Male Shoveler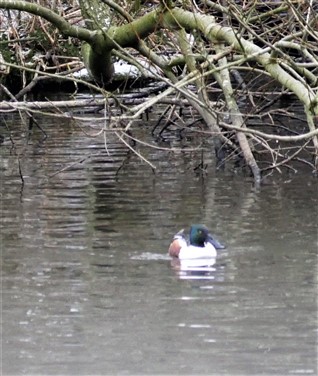 Male Shoveler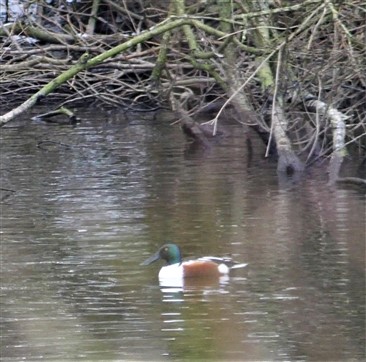 Field Trip to Marshside and Hesketh Out Marsh
On the 4th February 6 members of the New Cut Heritage and Ecology Bird Group were invited to a field trip at Marshside and Hesketh Out Marsh, Southport; organised by the Carbon Landscape. A good time was had by all as can be seen by the species listed below. Thanks to Anthony De Silva of the Carbon Landscape and all concerned.
Birds seen at Marshside
KESTREL
LINNET
GOLDEN PLOVER
LAPWING
SHOVELER
WIDGEON
MOORHEN
TEAL
LITTLE EGRET
MUTE SWAN
BLACK-TAILED GODWIT
SKYLARK
MEADOW PIPIT
KNOT
29 Species in all
GREY PLOVER
CORMORANT
REDSHANK
SHELDUCK
OYSTERCATCHER
CARRION CROW
STARLING
PINK-FOOTED GOOSE
STONECHAT
CANADA GOOSE
MALLARD
TUFTED DUCK
COOT
BLACK-HEADED GULL
PIED WAGTAIL
Birds seen at Hesketh Out Marsh
LINNET
WIDGEON
BARN OWL
COMMON BUZZARD
GREAT BLACK-BACKED GULL
MUTE SWAN
REDSHANK
SPOTTED REDSHANK
LITTLE EGRET
18 Species in all
TEAL
LAPWING
SHELDUCK
CARRION CROW
MOORHEN
CURLEW
PHEASANT
COOT
KESTREL
Mammals at Hesketh Out Marsh
Brown Hare
Little Egret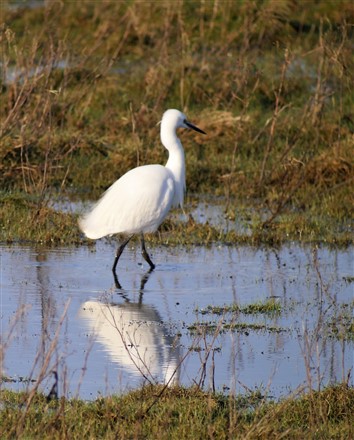 Black-Tailed Godwit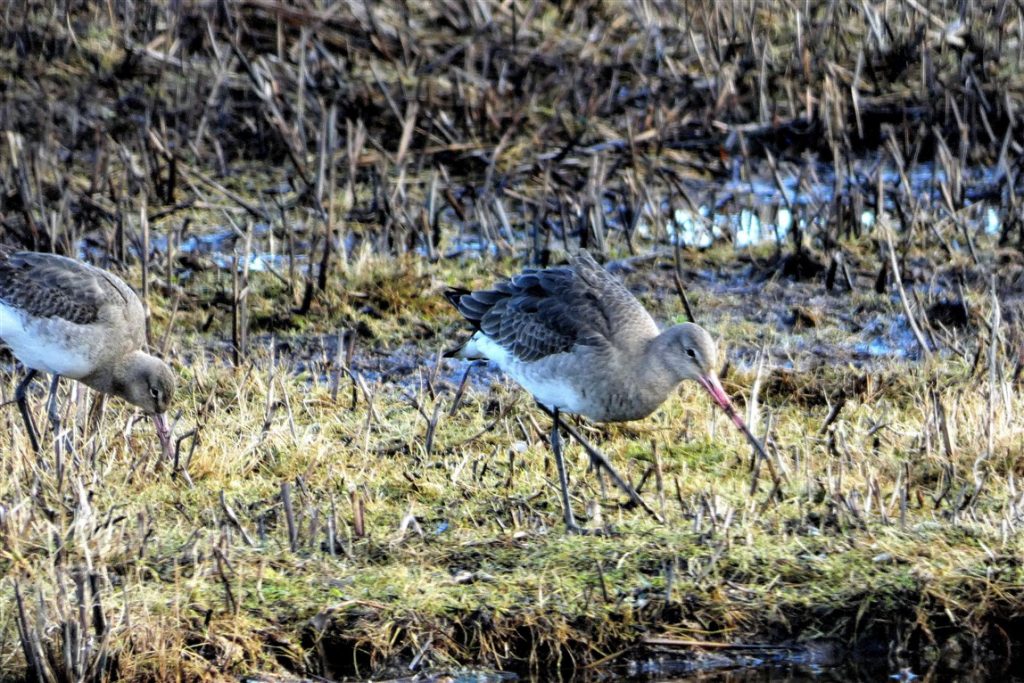 Little Egret and Black-tailed Godwit Photos Courtesy of Mike Kenwright