Date – 12/04/2018
Attendees: Dave; Steve; Mandy; Geoff and Terry
Weather: Cool Cloudy and Calm
Birds
Blackbird 30
Blackcap 9
Blue Tit 15
Bullfinch 5
Buzzard 1
Carrion Crow 4
Cetti's Warbler 2
Chaffinch 13
Chiffchaff 5
Collared Dove 2
Common Sandpiper 1
Coot 3
Cormorant 2
Dunnock 11
Gadwall 2
Goldcrest 1
Goldfinch 19
Great Tit 12
35 species in total
Greenfinch 7
Grey Heron 3
House Sparrow 9
Jay 3
Kestrel 1
Long-tailed Tit 10
Magpie 24
Mallard 6
Mute Swan 1
Reed Bunting 9
Robin 14
Song Thrush 15
Starling 1
Teal 2
Tufted Duck 2
Woodpigeon 26
Wren 9
Bird Report
A very pleasant morning's birding, with 2 more species than March. Spring has finally arrived and with it the first of the warblers and some welcome first sightings of the year.

This months highlights were a first sighting for the patch of a Common Sandpiper on the banks of the Mersey in transect 7 and outside of the survey date, the surprise appearance of a Curlew feeding in transect 5 on the 26th of the month.

April has seen the welcome return of the majority of expected warblers. Namely, 2 Cetti's Warblers in transects 11 and 12 not heard or seen since November 2017; plus the return of three Grasshopper Warblers in transects 6, 8 and 10; Willow Warblers in transects 2, 3 and 12 with Blackcap and Chiffchaff calling in numerous location especially in transect 2 and Whitethroat back to their favourite haunts in transects 7, 8 and 11. The Reed Warbler returned to the reed bed in transect 2 on the 20th April.

Two raptor species seen this survey; a Buzzard and a Kestrel which was again hunting over most transects of the Meadows. Over the latter half of the month a pair of Sparrowhaws has been very active over the Meadows.

Also of note in April has been the return of the Linnet particularly near the hedge laid section of transect 7 and the large bramble hedge between transects 3 and 8.

A solitary Great Spotted Woodpecker was logged on the 30th in transect 12. The first Swallow was seen on the 15th and first House Martin on the 20th.

For only the second time since sightings have been logged a Yellowhammer was seen on the 16th in transect 6 close to the bird feeders.
Mammals
1 Grey Squirrel,    2 Grey Seal
Butterflies
1 Small Tortoiseshell; 1 Peacock; 1 Brimstone; 1 Green-veined White
Common Sandpiper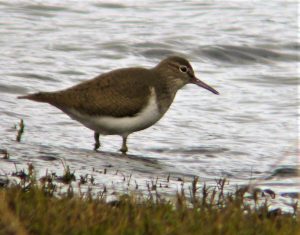 Dunnock Credit Amanda Fiddler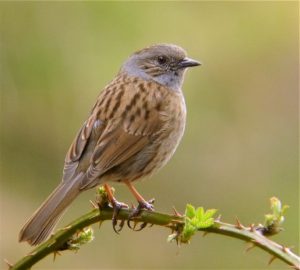 Moorhen Credit Mike Kenwright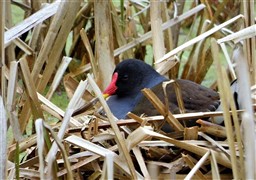 Reed Warbler