Date: 14/05/2018
Attendees: Alison, David, Dave; Steve; Mandy; Geoff and Terry
Weather: Warm, Sunny and Calm
| | |
| --- | --- |
| Bird List | 36 species in total. |
| Blackbird 24 | House Martin 2 |
| Blackcap 7 | House Sparrow 33 |
| Blue Tit 14 | Jay 1 |
| Bullfinch 3 | Kestrel 1 |
| Buzzard 2 | Linnet 11 |
| Carrion Crow 6 | Long-tailed Tit 7 |
| Cetti's Warbler 2 | Magpie 18 |
| Chaffinch 7 | Mallard 16 |
| Chiffchaff 7 | Moorhen 4 |
| Collared Dove 2 | Reed Bunting 18 |
| Cormorant 1 | Reed Warbler 5 |
| Dunnock 7 | Robin 10 |
| Gadwall 3 | Song Thrush 12 |
| Goldfinch 11 | Starling 15 |
| Grasshopper Warbler 1 | Swift 13 |
| Great Tit 3 | Whitethroat 11 |
| Greenfinch 16 | Woodpigeon 26 |
| Grey Heron 1 | Wren 9 |
Bird Report
A very pleasant morning's birding, with a great turnout of members and also 1 more species than in April.
All of the normal summer visitors to the Meadows have arrived, although some don't appear to have stayed, namely the Willow Warbler and Sedge Warbler. I'm happy to report though that there are at least 2 Grasshopper Warbler territories and at least 2 Cetti's Warbler territories.
This months survey was if anything unusual for the large number of House Sparrows and Starlings feeding on the insects in the hedgerows and grasses of the Meadows, with record numbers of both species seen. A special mention must go also to the larger than average numbers of Reed Bunting and Linnet.
Pride of place outside of the survey must go to the Cuckoo heard first on Westy Point at 9.00 am on the morning of 6th May and then on the Meadows proper at 9.25 am. Sadly the Cuckoo wasn't seen or heard again, but is the first known contact with this species for maybe 20 years or so.
Two raptor species have again been seen on this months survey; a Buzzard and a Kestrel which were again hunting over most transects of the Meadows. Two further raptors were sighted this month a Peregrine perched on the pylons in transect 5 on the 13th and a Red Kite over- flying the Meadows on the 29th was particularly noteworthy, sadly the Red Kite wasn't hunting over the patch and won't be added to the species list.
Also of note in May has been the sighting of 2 Pochard on the Mersey for several days in transect 4 and another probable visitor from Woolston Eyes a solitary Black-necked Grebe seen on the river in transect 7 on the 4th of the month.
The first Swifts were seen feeding over the Meadows on the 7th May and also on the 7th was the welcome return of the Kingfisher to transect 12.
Robin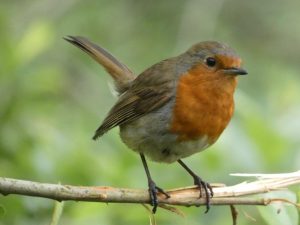 Woodpigeon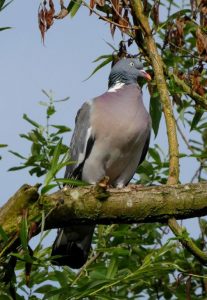 Mallard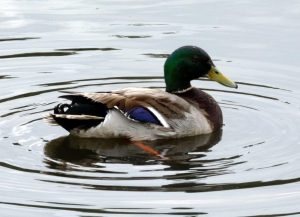 Mammals
3 Grey Squirrels, 1 Weasel
Butterflies
Orange Tip; Speckled Wood; Large and Small White; Peacock and Small Tortoiseshell.
Plants and Fungi
The Common Spotted-orchids are currently at their best in transect 7.
Large White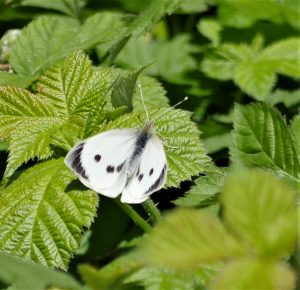 Speckled Wood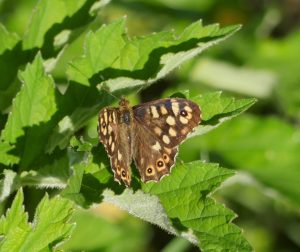 Common Spotted-orchid