Date:  17th September 2018
0700 hrs to 10.45 hrs
by David, Steve, Alison, Geoff, Dave, and Terry
Weather :
Warm, cloudy and Calm. Temperature 10C to 15C
Birds
Blackbird 20
Blackcap 1
Black-headed Gull 1
Blue Tit 16
Bullfinch 1
Buzzard (Common) 2
Carrion Crow 5
Cetti's Warbler 1
Chiffchaff 4
Chaffinch 5
Collared Dove 1
Coot 1
Cormorant 2
Dunnock 5
Goldfinch 15
Great Tit 16
Greenfinch 2
Grey Heron 1
37 species in all
House Sparrow 5
Jay 2
Kingfisher 1
Lesser Black-backed Gull 1
Little Grebe 1
Long-tailed Tit 22
Magpie 23
Mallard 16
Moorhen 7
Mute Swan 2
Pheasant 1
Raven 1
Reed Bunting 3
Robin 18
Song Thrush 1
Sparrowhawk 1
Swallow 4
Woodpigeon 42
Wren 8
September Bird Report
A considerably better survey than last month with plenty of bird and butterfly activity which resulted in 12 more species and 60 more minutes spent meandering round the patch. Interestingly, this was the first survey undertaken since the Meadows have been cut but it's far to early to come to any conclusions with regard to the change in habitat.
 Although there were no new species this month during the survey, we did encounter the welcome return of a Pheasant, a Raven and the Cetti's Warbler, which have all been absent for several months.
 Most of the warblers have departed for the year, but as well as the Cetti's Warbler several Chiffchaff and one Blackcap was still around and one of the Chiffchaff was found to be still in song during the survey.
 A  reasonable month for raptors with both Common Buzzard and Sparrowhawk being seen during the survey and Kestrel encountered most days of the week especially on the pylons over the Meadows.
 After a poor summer for the species four Swallow were encountered over transect 2.  As with last month Jays are seen virtually every day  and a Willow Tit has been heard and seen in both transects 2 and 11.
 A Tawny Owl for only the second time on the patch has been heard; this time in transect 1 and a Mistle Thrush was perched atop the pylon in transect 8 on the 24th. Kingfisher have been regular sightings, especially in transect 12 this month.
Mammals
5 Grey Squirrel were logged during this month's survey and 1 Bank Vole was seen
Reptiles and Amphibians
A Common Frog was encountered in transect 10 making the most of the wet grass and hopping in the direction of the pond.  
Insects, Butterflies and Dragonflies
Lots of Butterfly activity this month, especially for Commas, Speckled Woods and Red Admirals. Noteworthy during the month has been a solitary Painted Lady on the 9th in transect 1 and a total of 3 Small Coppers on the 19th and 24th in transect 7 – a first sighting of this butterfly for the patch. A Pale Tussock Moth caterpillar was seen along the board walk in transect 2 on the 23rd and a Turnip Sawfly was spotted on the ivy on the bridge into the Meadows in transect 3 on the day of the survey.
Plants and Fungi
There are several Shaggy Inkcap (Coprinus comatus) fruiting within the Larkfield Park field in transect 2. A Robin's Pincushion (Rose Bedeguar Gall) was noted on a Dog Rose in the corner of transect 5 during the survey.
The Hops along the fence in transect 8 are in full bloom.
Shaggy Inkcap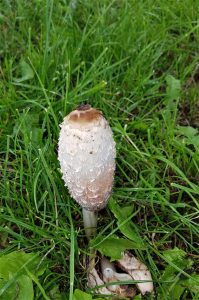 Robin's Pincushion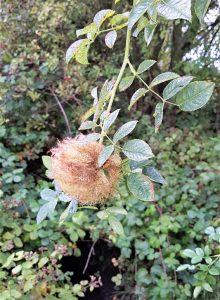 Painted Lady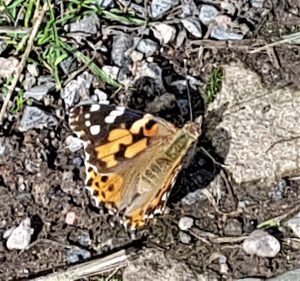 Red Admiral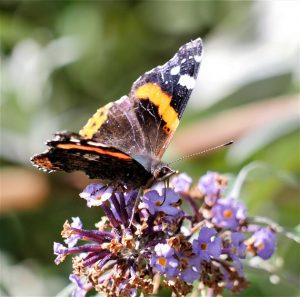 Turnip Sawfly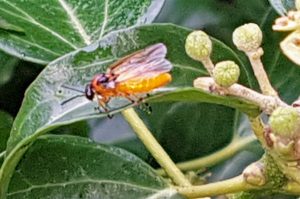 Hop Flowers (Home Brew Anyone?)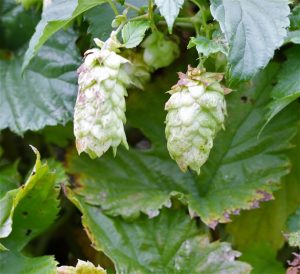 Pale Tussock Moth Caterpillar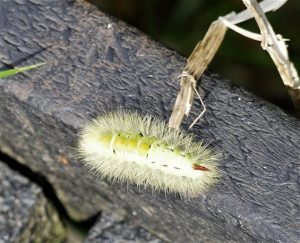 Small Copper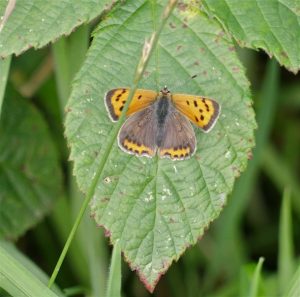 The 12 transects of the bird survey route