Due to Covid Restrictions we have no planned Events
Highlights
| | | | |
| --- | --- | --- | --- |
| Next meeting | TBA Post Covid-19 | Alford Hall, Manchester Rd. | info@newcuttrail.com |
The New Cut Heritage and Ecology Trail is an ongoing project to enhance a valuable group of local open spaces. The Trail incorporates:

Cycling on the New Cut Trail
A linear footpath following the old tow path of the New Cut Canal completed in 1821 to bypass a large bend in the River Mersey and part of the Irwell and Mersey Navigation.
The path starts at Paddington Bank and runs for 3 kilometres to Weir Lane, Woolston. Along the way passing Paddington Locks, Paddington Meadows Nature Reserve, Larkfield Park, The Ecology Park, Woolston Park South, Grey Mist Mere, Nottingham Close Play area , the site of Woolston Locks and ends at Woolston Weir Pool.
We would like to thank Chris Digata for the drone cam video of the entire route from Paddington Bank to Woolston Weir. This was captured in January 2016 following a period of torrential rainfall and flooding which is still evident on the scenes of Woolston Eyes and Paddington Meadows. Chris's other videos around Warrington can be found on his Youtube channel
Further information on all these locations is to be found on the New Cut Trail Leaflet.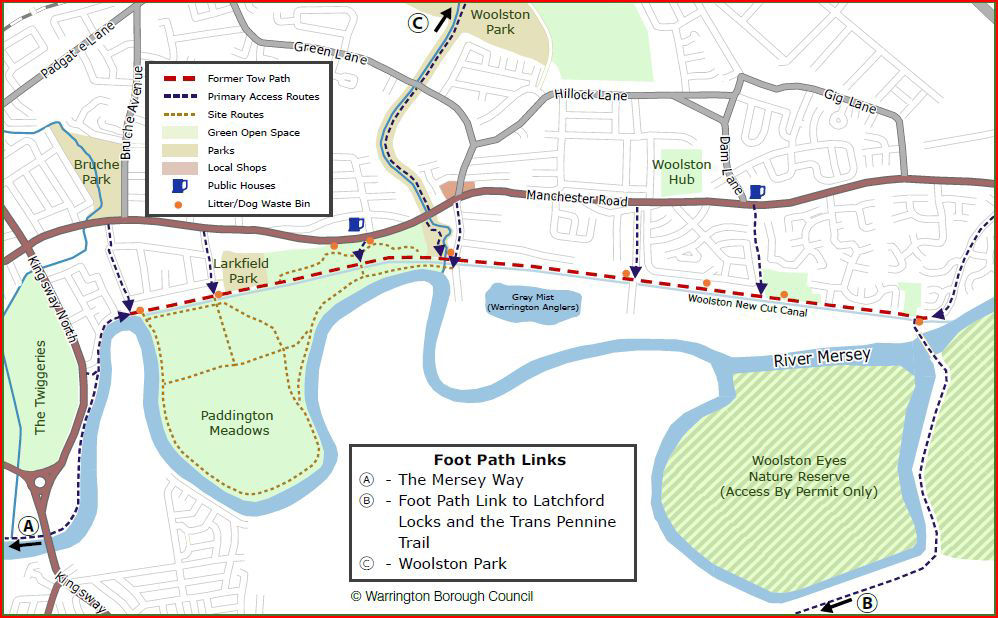 Application Form to join the New Cut Heritage and Ecology Trail Group
new-cut-h-e-trail-group-membership-form-nov-2016
Contact by email info@newcuttrail.com