The new Cut Heritage & Ecology Trail Group invite you to their showcase day on Sunday 19th February 2017 at Paddington House Hotel. We shall be highlighting the work of the Group in benefiting environments for flora & fauna to thrive and researching, recording and sharing the Heritage of the Paddington & Woolston areas for future generations.
The New Cut Heritage and Ecology Trail
Centred on the disused Woolston New Cut Canal from 1821,  Paddington Meadows a local Nature Reserve and the Council's new Ecology Park (£1.3m). The Trail is a beautiful & peaceful flora, fauna and heritage rich location.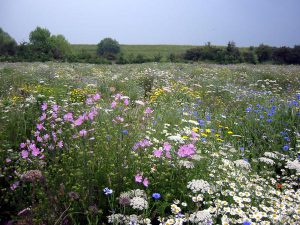 Paddington Meadows are the last remaining riverside meadows in Warrington less than 2 miles from the Town centre.
Open Day Flyer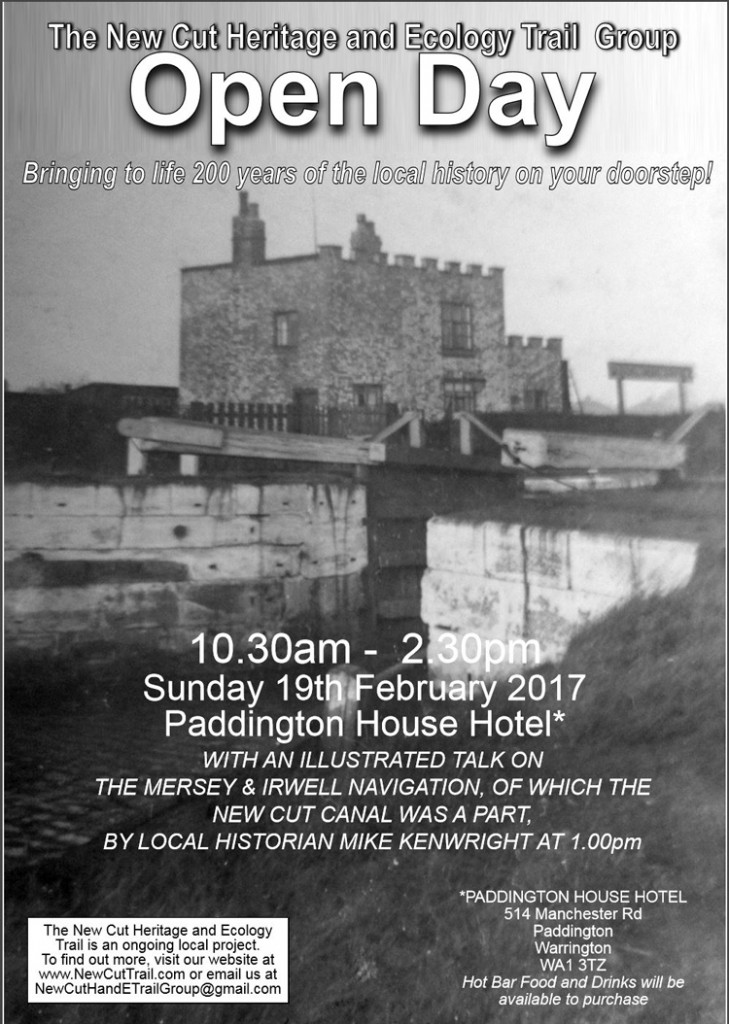 On Display at the Open Day.
History Maps and Photos
Census Data
Mersey & Irwell Navigation Talk
Bird Group Displays
Environment Agency Displays covering local flood defences
Children's table
Food and drinks available from the bar area
Tea            50p
Coffee       70p
Hot dog £1.00
Burger   £1.50
Chips     £1.00
Chilli      £4.00  served with rice or chips
Curry     £4.00 served with rice or chips
Competitions and Prizes
Each person attending will be entered into a free prize draw for a food hamper
Other free to enter competitions
A children's colouring table
A tombola
A Bird Identification competition
All funds raised go towards projects which shall make a visit to Trail more enjoyable such as bench seating provision and bulb planting.
Anybody wishing to can make a small donation of  their choice in a box by the entrance.
Paddington House Hotel
Hot drinks and bar food willl be available to purchase from the Hotel during the event.    The New Cut Heritage & Ecology Trail Group wish to thank the management of Paddington House Hotel for their support with the event, along with all exhibitors, sponsors and volunteers.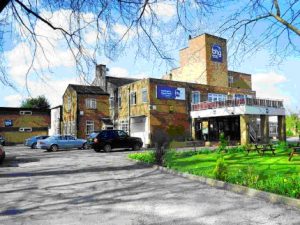 A Special Thanks to Mike Kenwright for the Mersey & Irwell Navigation Talk at 1pm.
Volunteers have given a considerable amount of their time to enable this event to be available for our community to visit and enjoy – & a special mention and thank you also to Mike Kenwright – local historian, for kindly presenting  the afternoon illustrated talk on the regionally & nationally important Mersey & Irwell Navigation – of which the Woolston New Cut was a part.
Displays
Since its establishment 2 years ago, the New Cut Heritage & Ecology Trail Group have been amassing material about the flora and fauna of the area, the creation of the Council's Ecology Park, Paddington Meadows and the hundreds of years of local heritage – from a vast amount of sources.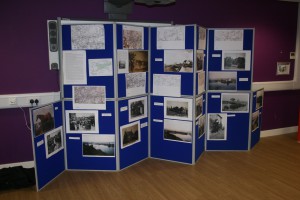 Thank you to those individuals and organisations who have assisted.
A significant quantity of material will be set out on display boards for your perusal and we also look forward to hearing from local people, to pick up additional snippets and possible records about our area, that we can record and then share.
There may be additional material and information known by the Group in addition to that displayed. Please enquire and we shall be happy to speak with you.
History, Maps, Photos and Census Records
There are many old maps and photographs, some dating back 50-80 yrs and some up to hundreds of years.  We also have some detailed census material, so when you come along, look out for relatives, or see who may have lived in your house or one near to you!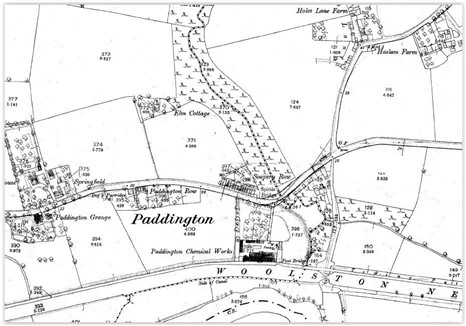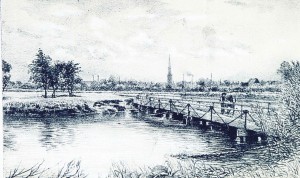 Bird Group Display
Our Bird Group display, newly created by the team who perform the monthly bird survey to BTO Survey Standards. Following a set route and carefully and methodically recording data on what is observed on the site(s).
Learn about the British Trust for Ornithology for breeding birds recommended methodology and how butterflies, moths, wildflowers & fungi etc. at the locations are recorded too (those which have a direct impact of bird species/landings at the sites).
You can discuss any casual or formal birdwatching interest or activity, or just take a look at the work being done. Hear about the Trail website where species observed are available for the community to see. We are especially delighted to have found a small colony of breeding Willow Tits.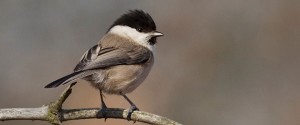 TEST YOUR KNOWLEDGE   – There will be a fun competition to test your knowledge of birds
Children's Table
There will be some fun activities including drawing and colouring at the children's table, located at the side of the main displays. Activities are free, and all welcome to enjoy.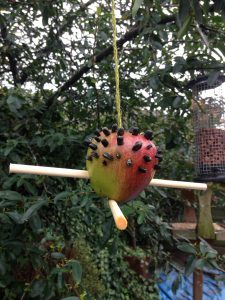 Sponsorship
The New Cut Heritage & Ecology Trail Group would like to thank all our supporters and sponsors for their assistance in helping us achieve our goals. Click here to see a list of our sponsors and visit their websites.
Local businesses, organisations, retail etc. are invited to Sponsor the New Cut Heritage & Ecology Trail Groups open day.
A £50 sponsorship will significantly benefit the Group in presenting such days, which we provide as free events for the public. Any surplus funds go into the Groups bank account and be spent on items to benefit the local environment and in recording heritage. For example the new picnic bench seats and bulb planting recentley completed in Woolston Park South.
The Group is a constituted organisation, with formal processes and works with Warrington Borough Council.  Sponsorship shall entitle 2 people to a pre-opening preview of displays, tea/coffee, entry of the organisation in a small prize draw, and details of the business/organisation being displayed in various formats prior to the event, and on the day.
We hope that you are able to consider this very much needed sponsorship.
Sponsorship form submission deadline – 10 February 2017.
Environment Agency Display
We are pleased to have friends and partners who have assisted in the Trail from the Environment Agency flood defence team with us.
They are pleased to demonstrate why flood defences are necessary, how the aims are achieved, the local projects nearing completion and work that has been done to assist along the New Cut Heritage & Ecology Trail.
Learn about environmental improvement works undertaken as part of the wider River Mersey Warrington Flood Risk Management Scheme. Such as wet land habitat creation at the Twiggeries, environmental enhancements at Cinnamon Brow, working around sensitive wildlife at Westy and planned wildlife habitat creation at Orford Road.
The Environment Agency team are looking forward to speaking with you and answering any questions.
Outreach to Local Schools
The New Cut Heritage & Ecology Trail Group have a large volume of information and material such as old photographs and maps of the area, and a lot of anecdotal detail.
In developing the New Cut Heritage & Ecology Trail, it has always been an intention and aim to develop areas so that they can be utilised as an outdoor classroom.  Right on our doorstep, including Westy, Latchford, Longbarn, Padgate, Woolston & Bruche, is a beautiful environment, rich in wildlife, flora, fauna and with the added massive bonus of key heritage to highlight and pass on.
Ideal for mini projects, and suitable for the teaching of subjects ranging from science, history, geography, art, sport, other specific subjects (creative writing, poetry) as well as combined subjects and project inquisitive work. We very much hope to speak with Heads, Teachers, support staff and parents.
We can also by arrangement, plan occasional walks on the Trail and talks to a class or hall full of children, on historical elements.
Please contact us, and make yourselves known if you are able to attend. We are looking forward to meeting you!
Use of the Trail for education will be very cheap to arrange, and environmentally sustainable, as many could access locations from school without the need to arrange fossil fuel burning vehicles.