Date:  14th May 2016. 0700 hrs to 1000 hrs
by Amanda, Anne and Terry
 A cool but pleasantly sunny morning.  Temperature 6° – 11°C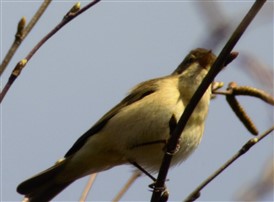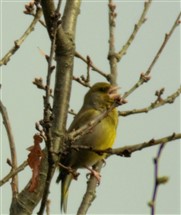 Survey List
Robin 11
Blue Tit 8
Dunnock 6
Woodpigeon 25
Wren 12
Blackbird 18
Magpie 14
Greenfinch 13
Reed Bunting 10
Bullfinch 1
Chaffinch 12
Long-tailed Tit 13
Great Tit 1
Goldfinch 6
Moorhen 4
House Sparrow 7
Carrion Crow 5
Coot 1
Song Thrush 3
Collared Dove 2
Mute Swan 7
Chiffchaff 4
Blackcap 4
Gadwall 1
Reed Warbler 6
Great Spotted Woodpecker 1
Grey Heron 1
Greylag Goose 3
Grasshopper Warbler 1 (heard but not seen)
Swift 16
Whitethroat 13
Linnet 1
Swallow 1
Starling 2
Willow Tit 1
 35 species in all
The Early Worm!
 Another very enjoyable days birding on a cool, dry, windless morning resulted in a record number of birds being encountered; possibly due to the earlier start time and the arrival of further summer migrants. Swift, Grasshopper Warbler, Whitethroat and Reed Warbler all put in an appearance.
 However, again no Willow Warblers were seen or heard on the Meadows, though they were singing tantalisingly close by, on Number 4 bed of the Eyes.
 The welcome sight of a couple of starlings and a linnet were both first records for the year, a measure perhaps of how the numbers of these once very common birds has plummeted;  but the highlight of the day was undoubtedly the sighting of a Willow Tit in a newly discovered territory, which now means there are at least two sites occupied by these threatened little birds within the New Cut Canal/Paddington Meadows survey area.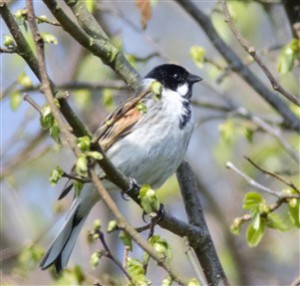 Mammals
 5 Grey Squirrel seen during this month's survey, although there are plenty more about.
Butterflies
 Absent during the survey, perhaps because of the cool temperature.
 News flash!
 The pair of Grey Partridge, last seen in March, have been seen twice since Saturday morning's monthly survey. Lets hope they have been successful in raising some chicks.